Hi there!
Since I'm starting my blog and haven't done a proper "introduction" on social media I thought it would be a good idea to do so for my first blog post. I wanted to give you a sense of my background and how I got to where I am today. Like some of you, teaching wasn't a direct path that I was on from day one, and I certainly never thought living and working in the Cayman Islands was in my future.
I grew up in New Brunswick, Canada, where I lived until I graduated high school. I then moved to Montreal, Canada to attend McGill University where I earned my Bachelor of Science with a major in anatomy and cell biology, and minors in psychology and English literature (I love Shakespeare). I continued my studies at McGill University, earning my Master of Science degree in experimental medicine. During my time in Montreal I conducted medical research and had my very first teaching job working in a human cadaver lab teaching human anatomy! Students would go to their lecture and learn about different parts of the body, organs, or tissues, and then come to the lab where I would get to show them the actual organs and reinforce how it worked and was connected to the body. I absolutely loved it!
When I finished my research project I realized that teaching was a way to combine my passion for science with my love for engaging others. I moved to Toronto, Canada and attended the Ontario Institute for Studies in Education at University of Toronto. I earned my teaching certification with a focus on global citizenship and sustainable development and was fortunate to meet a group of teachers from a variety of different backgrounds who shared a similar teaching philosophy. We all had a passion for teaching, and our subject matter, but we also felt a social responsibility to encourage our students to make our world a better place. In a science class there are countless opportunities to help students recognize and make connections with one another and the world around them. It is so inspiring when I hear students talk about the importance of tackling climate change, or brainstorming solutions for some global problems.
After teaching in Ontario and New Brunswick I made the move to the Cayman Islands, which to be honest was a bit of a happy accident. I had been applying for jobs all across Canada when an old professor reached out to tell me another of her former students had an opening for a science position at her school. She failed to mention it was in Grand Cayman, and since I was applying for jobs all across Canada, I decided to get in contact and apply for the job. By the time I realized it was in the Cayman Islands I already had a Skype interview scheduled, and the next thing I knew I got the job. I decided to try it out for a year, and four years later, here I still am.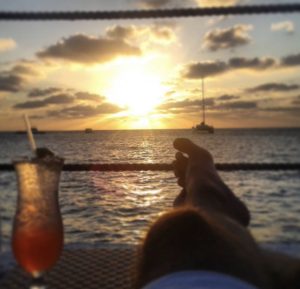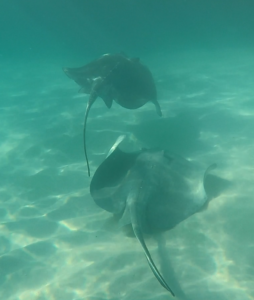 Before moving I had never really thought about working abroad; it just seemed like a lot of hassle and work. I know the procedure for a work visa and the things required are different for every country, but I can share a bit about my experience for anyone that is curious about the process. Obviously the first step is to research the area that you are interested in: cost of living, different areas you may want to live, local transportation, and how much it could cost to fly home at different times in the year. I was very fortunate in that my school took care of getting the work permit for me, which is typical for most employers on island. They required medical checks, employment history, passport information, etc. The other biggest step was trying to sort out where I was going to live. My temporary accommodations fell through while I was on route to the island, so I ended up staying at a hotel for the first few days after arriving. I set up appointments to view apartments and lucked out in finding a great place near my school, where I still live four years later. Once I found an apartment I had to set up my electricity, order internet, get a SIM card for my cell phone, and open a bank account. I held off for a while getting my own car, as there were a lot of essentials around my apartment and I found getting around on public transportation to be easy enough.
For anyone who's reading this and ever thought about moving abroad, whatever excuses you've made about why you can't or shouldn't, stop listening to them! Teaching is a unique profession in that your skills and knowledge are easily transferable to other regions of the world, particularly with the amount of international schools that exist. Teaching abroad has afforded me the opportunity to learn about a new culture and given me even more reference points and comparisons to apply to my teaching. If you're interested in more information on the Cayman Islands (there are always job openings) check out Cayman resident https://caymanresident.com/. If you're thinking about making a change and have questions or want to talk to someone about it, feel free to reach out to me! I'd be happy to share more about my experiences or hear more about an adventure that you're getting ready to set out on!
Thanks for reading my first blog post. I'd love to hear from you – leave a comment below if you have any questions or are thinking about moving abroad to teach!
William